Your ads will be inserted here by
Easy Plugin for AdSense.
Please go to the plugin admin page to
Paste your ad code OR
Suppress this ad slot.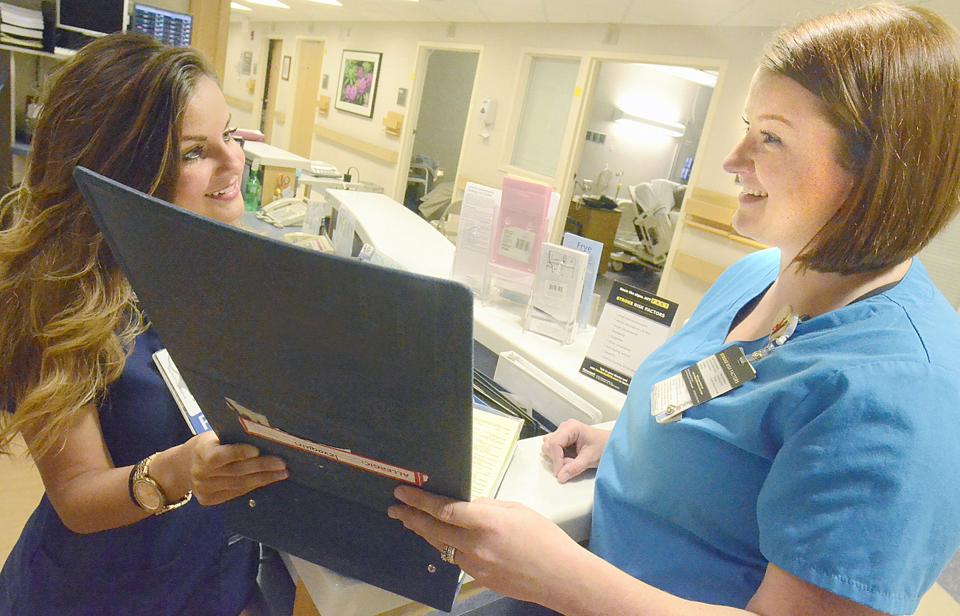 At 21 years old, Kimberly Eckard, 25, had a stroke. She was doing laundry when she started to feel weak, and her fingers slowly went numb. When she went to lie down, she blacked out.
"It started in my finger tips, they felt kind of numb, just detached from my body," Eckard said.
When she woke up, she called her mom because her head hurt. She thought she was overly stressed, but when she started to speak on the phone, her words weren't complete.
"(Strokes) can happen to anybody; you can have no risk factors and it can still happen," Whitney Arrington, Frye Regional Medical Center's stroke care coordinator, said.
Once an individual has a stroke, they are 60 percent more likely to have another one in the next three years, she said.
Two types of strokes can occur: ischemic is most common and hemorrhagic is most fatal, Arrington said.
Ischemic strokes occur when oxygen isn't getting to the brain due to a blood clot. A hemorrhagic stroke is when an artery in the brain is leaking or ruptures causing damage to brain cells.
"In one part of the brain it can affect your speech, in another your arm," Arrington said. "It can affect your mood and emotion; it really depends where that clot is in your brain."
Strokes are the fifth leading cause of death and the first leading cause of disability.
"We live in what's called the stroke belt of America," Arrington said.
Knowing the signs and symptoms of stroke is important to anyone's health along with knowing the risk factors. Age, race, sex, cholesterol, high blood pressure, and diabetes are factors in a stroke.
When an individual has a stroke, calling 911 should be the first response, Arrington said.
Frye educates the community to know the signs and symptoms of stroke and to call 911 and get EMS involved as soon as possible, Arrington said.
"It's always better to go to the ER and let them say you don't have a stroke than to sit at home with a stroke," Dr. Robert Yapundich, neurologist and medical director of the stoke program, said.
It is crucial to get care immediately because after 90 minutes since the stroke occurred, activase, also known as tissue plasminogen activator (TPA), is not applicable, she said.
"The name of the game is time and speed," Yapundich said.
TPA is a clot busting medication that can reverse stroke symptoms, Arrington said.
"The biggest leap forward was TPA," Yapundich said.
Before TPA, strokes were treated the same as heart attacks, he said. Doctors quickly learned that the brain is different from the heart.
Frye uses a stroke assessment monitor and intervention robot to communicate with Wake Forest Baptist Medical Center. A neurologist who specializes in stroke care can quickly and efficiently consult with an ER physician to decide whether or not a patient receives TPA.
Eckard wasn't a candidate for TPA because she wasn't within 90 minutes of the stroke when treated. She went to her primary doctor first before being told to immediately go to the hospital because she didn't know she was having a stroke.
If TPA isn't available for use such as in Eckard's case, getting a patient back to the most functional level is the goal, whether that is through rehab, medication or other measures.
"There really is no one set path each person takes, it depends on that person and what their risk factors are," Arrington said.
Your ads will be inserted here by
Easy Plugin for AdSense.
Please go to the plugin admin page to
Paste your ad code OR
Suppress this ad slot.
Some patients will have full function the following day, while others may never regain function again, Arrington said.
In Eckard's case, after doing a computed tomography (CT) scan and a few magnetic resonance imagings (MRI), arteriovenous malformations (AVM) were found in her head, Eckard said.
"The goal is to always put (patients) on a regimen that will prevent future strokes," Arrington said.
AVMs, a birth defect that tangles blood vessels in the brain, most likely caused Eckard's stroke, Arrington said.
"Out of my entire check list, the only thing I had was one family history of a stroke," Eckard said.
She said she was healthy, exercised regularly and didn't smoke, but yet she had a stroke.
"For the most part I came back close to baseline pretty quickly which was very fortunate," Eckard said.
She spent three days in the hospital, but didn't have to undergo any rehab. Her speech cleared up first before she even reached the stroke unit floor.
"Majority of patients aren't that lucky," Arrington said.
Ninety-nine percent of patients leave the hospital with some kind of deficit, a long-lasting effect of stroke, where they need rehab or to be placed in a facility for rehab, Arrington said.
"For the first part, it was hard for me because yes, I was 21, I was a young mom," Eckard said. "It just felt like a mess, like you were a fish bowl and people were looking at you."
Her daughter doesn't remember the incident because she was 2 years old, but when she is older, Eckard plans on discussing what happened.
"I want (my daughter) to be aware, because if not, the same thing could happen," Eckard said. "Now it's in our family history, it's a big deal."
Years later, Eckard still sees a neurologist every 6 months. She occasionally has migraines and numbing in the tip of her fingers.
Eckard originally went to school to be a physical therapist, but after her life-changing event, she went into nursing. She is a certified nurse assistant (CNA) at Frye and recently passed her boards to be a registered nurse (RN).
As an RN, she will work in the stroke unit right beside patients to make sure they know about testing, results, rehab, medication, and all the steps in between.
"I'll be on the floor that I was treated on," Eckard said.
She also works with the nurse that treated her when she had her stroke.
A few weeks ago, Eckard had a patient come in with a stroke who was a young mom and in a similar situation Eckard experienced.
"We really get to connect, and I really like having that connection with some of the patients," Eckard said.
An important part of nursing is being a patient advocate and making sure everyone is on the same page, Arrington said.
"It takes a special person to do that," Arrington said.
Source : hickoryrecord.com