ICE CREAM TIPS
Making low sugar ice cream is tricky. If you use an erythritol-based sweetener it hardens to a rock, but if you leave it out before serving, it will soften. If you use Chicory Root , it stays nice and creamy! Another trick is to always add a pinch of salt to the mixture.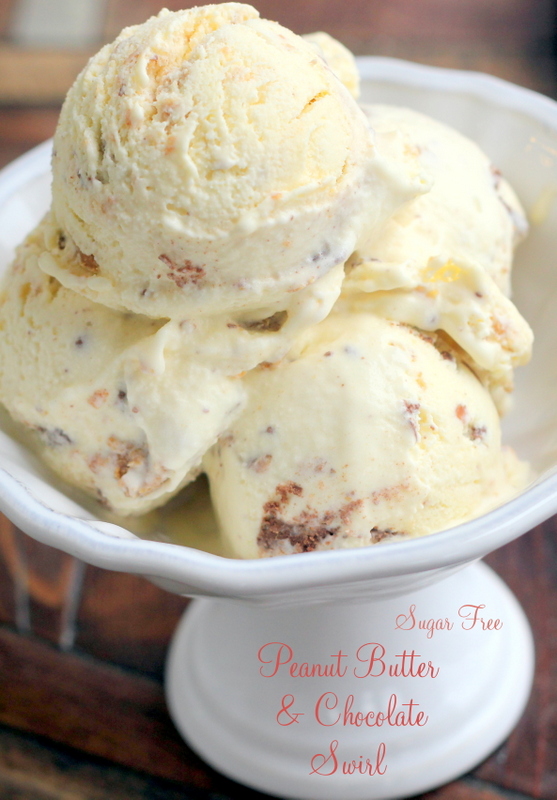 VANILLA ICE CREAM:
5 egg yolks
1 cup Swerve
1 cup heavy whipping cream
1 cup unsweetnened vanilla almond milk
1/4 tsp Celtic sea salt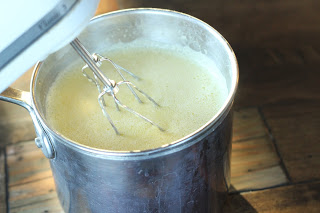 In a medium saucepan place the egg yolks and sweeteners in to mix on high with a hand mixer (TIP: Since the Just Like Sugar is all a fiber, it will "gum" up if you don't constantly stir while adding it to the yolks). Whip yolks until light in color and double in size. Stir in the whipping cream. Place the saucepan onto medium heat on the stove and cook, stirring constantly (I used my hand mixer, see photo). Stir until thickened into a custard. Remove from heat and stir in the almond milk and salt. Let cool completely (I cooled overnight…it was hard to wait!). Place into your ice cream machine and watch the magic happen within 45 or according to your ice cream maker's directions. Freeze until set for vanilla ice cream or stir in your favorite swirl flavor to mix it up. Makes 5 servings.
PEANUT BUTTER SWIRL:
1/2 cup natural peanut butter
1/4 cup butter or coconut oil
1/4 cup erythritol (or Swerve)
1/2 tsp stevia glycerite (omit if using Swerve)
1/4 cup unsweetened almond milk
CHOCOLATE SWIRL:
2 TBS butter or coconut oil
1 oz unsweetened baking chocolate
10 TBS heavy cream or coconut milk
1/4 cup Confectioners Swerve (or erythritol ground in a coffee grinder)
1 tsp stevia glycerite (omit if using Swerve)
CHOCOLATE SWIRL: Place the butter and chopped chocolate in a double boiler (or in a heat safe dish over a pot of boiling water). Stir well until just melted (don't burn the chocolate!), add in the cream and sweetener. Stir until smooth and thick. Swirl into finished ice cream.
PEANUT BUTTER SWIRL: Swirl into ice cream and then freeze.
NUTRITIONAL COMPARISON (per 1/2 cup serving)
Ben & Jerry's Vanilla Ice Cream = 230 calories, 23 carbs, 0 fiber, 4 g protein
"Healthified" Vanilla Ice Cream = 144 calories, 13.9g fat, 3.4g protein, 1.9g carbs, 0g fiber (86% fat, 9% protein, 5% carbs)
Ben & Jerry's PB Ice Cream = 360 calories, 27 carbs, 1 fiber, 6 g protein
"Healthified" PB Ice Cream = 387 calories, 36g fat, 11.5g protein, 6.7g carbs, 1.7g fiber (83% fat, 11% protein, 7% carbs)
Source:mariamindbodyhealth.com